Now Integrated with SOAPe!SOAPe, LLC and Digity Software Solutions
SOAPe, LLC and Digity Software Solutions are now partnered to bring you the best software support around. As you know, SOAPe is the industry's best chiropractic EMR software hands down for the money. We do not offer "free" support as this would raise our bottom line and thus yours. Instead we have partnered with the industry's best support company which is U.S based and can offer our clients with the best tech support possible.
SOAPe Software Inc. is committed to ensuring that our clients have the latest health and internet technology solutions. Our understanding of your needs and our commitment to providing the best solutions requires that we partner with other key industry leaders. Together, we deliver the solutions and integrate the tools our clients need to help ensure their present and future success.
We are always seeking to develop new partnerships with chiropractic-friendly organizations. If your company is interested in exploring a potential partnership, please email us.
Electronic Billing made easy with EMDEON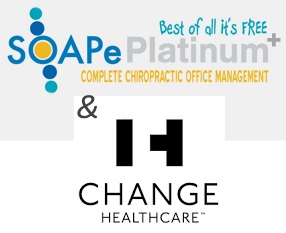 Simplifying the Business of Healthcare Emdeon is a leading provider of revenue and payment cycle management and clinical information exchange solutions, connecting payers, providers and patients in the U.S. healthcare system. Emdeon's offerings integrate and automate key business and administrative functions of its payer and provider customers throughout the patient encounter. Through the use of Emdeon's comprehensive suite of solutions, which are designed to easily integrate with existing technology infrastructures, customers are able to improve efficiency, reduce costs, increase cash flow and more efficiently manage the complex revenue and payment cycle and clinical information exchange processes.